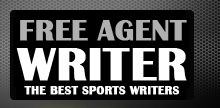 Yankee Addicts
Categories
Featured Sponsors
News published by
December 29, 2010
The Philadelphia Eagles entered Tuesday nights game against the Minnesota Vikings with a chance at the No. 2 seed in the NFC Playoffs. The Eagles had been battling the Chicago ...
December 13, 2010
The game between the Minnesota Vikings and New York Giants was moved to tonight in Detroit because the dome roof collapsed in Minnesota. The teams, particularly the Giants, were forced to ...
December 6, 2010
The lack of a pass rush by the Jets defense has been talked about all season. Jets fans are hoping that by 8:30 tonight, Mike Pettine and Rex Ryan will ...
December 6, 2010
Long suffering Jets fans might have asked themselves this question maybe only once as lifers. During the magical 1998 season, which at halftime of the AFC championship game ...
November 30, 2010
Week 12 in the NFL saw a bunch of former Rutgers Scarlet Knights return to the area. None performed better than Jacksonville Jaguars safety Courtney Greene. With his 11-tackle effort, ...
November 24, 2010
We are approaching Week 12 in the 17-week NFL season. The New York Giants are 6-4 on the year after losing their last two games to the Cowboys and Eagles. ...
November 15, 2010
Week 10 in the NFL saw some dramatic endings as well as a handful of upsets. A week after many had byes, most of your former Scarlet Knights were back ...
November 5, 2010
When defensive coordinator Perry Fewell came to New York, he had a tough role of patching up the Giants' beat up defense. In 2009 the defense was humiliated many times ...
November 4, 2010
With the NFL season at the mid way point, your Double G Sports Expert Panel took a look around the league. Which team has been the biggest disappointment and which the ...
November 3, 2010
The Double G Sports Knight of the Week Award goes to a pair of brothers: The McCourty brothers, Devin and Jason, each grabbed an interception in Week 8. Devin McCourty, the ...