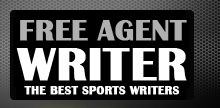 Yankee Addicts
Categories
Featured Sponsors
News published by
June 22, 2013
One of the big 2013 National Football League season questions for the Tampa Bay Buccaneers is if quarterback Josh Freeman will perform well enough to earn a hefty contract renewal. ...
March 5, 2011
It's ubiquitous sports news.  The National Football League negotiations with the National Football League Players Association occupy tough ground while they discuss game turf.  Talks have been extended twice. NFL Executive ...
January 19, 2011
It's no secret that NASCAR officials have watched the No. 1 sport in the country, the NFL, over the years for many reasons. It's prudent to follow the thought that if ...
January 1, 2011
The Tampa Bay Buccaneers' 2010 playoff potential requires they beat the New Orleans Saints on their noisy home turf Sunday at 1:00 p.m. and then view two games starting at ...
December 29, 2010
The playoff scenarios get tighter now going into the final season game for the NFL's Week 17 where the Tampa Bay Buccaneers are one of three teams chasing a single ...
December 24, 2010
The rebuilding Tampa Bay Buccaneers scored well in the 2010 draft with Gerald McCoy, Mike Williams, Cody Grimm, Arrelious Benn and others, but their post-draft moves have been exemplary. Searching and ...
November 27, 2010
The Tampa Bay Buccaneers have a 4-1 record on the road this season and face perhaps their stiffest road challenge this week in Baltimore.The Ravens and Bucs are evenly matched ...
November 6, 2010
National Football League pundits viewed the 2010 performance of the Tampa Bay Buccaneers as likely to match the 2009 dismal results of three wins and 13 losses. As trained journalists, they ...
October 27, 2010
The Tampa Bay Buccaneers once again overcame mistakes and mixed production like they did against the Bengals to rally for a win last Sunday. At the helm of that robust ...
October 26, 2010
With 10 games remaining, the Tampa Bay Buccaneers will face six teams with winning records. The Falcons and Seahawks lead their divisions. Three teams have losing records. The Panthers, Lions and 49ers ...