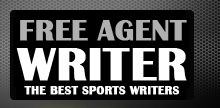 Yankee Addicts
Categories
Featured Sponsors
News published by
September 10, 2011
Week 1 NFL predictions are a tricky thing: there really isn't have a relevant sample size, beyond last season, to base picks on.Take for instance, the 2010 Cincinnati Bengals. Coming ...
April 18, 2011
Indianapolis Colts Vice Chairman Bill Polian hasn't minced words when discussing his team's offensive line woes in the past. More than once, Polian has blasted the team's play up front ...
April 17, 2011
The 2011 NFL draft is now just days away and teams are making final evaluations on their targeted prospects. For months, players have been examined by team front office personnel, coaches ...
April 11, 2011
The Jacksonville Jaguars sacked the quarterback only 38 times in 2010 and generating a more consistent pass rush is at the top of the team's offseason priority list.J.J. Watt was ...
January 9, 2011
Marshawn Lynch's 67 yard touchdown run to cement the Seahawk's win over the New Orleans Saints immediately had people calling it the greatest run in NFL playoffs history.Hyperbole or not, ...
December 21, 2010
The Chicago Bears clinched the NFC North in convincing fashion on Monday night, throttling the Minnesota Vikings 40-14. Jat Cutler mostly took care of the football, throwing three touchdowns and only ...
December 21, 2010
Leslie Frazier was bestowed the interim head coaching job of the Minnesota Vikings after Brad Childress was fired following a week 11 loss. Frazier has a solid reputation around the NFL ...
December 21, 2010
Toby Gerhart, the Vikings rookie running back from Stanford, coughed up a fumble early in the 4th quarter, effectively ending the Vikings chances of beating the Bears.Late in the third ...
September 27, 2010
Packers vs. Bears is the fourth Monday Night Football game of the year and features two of the NFL's most storied franchises.From Dick Butkus and Gale Sayers, to Walter Payton ...
August 12, 2010
As the Hall of Fame welcomed Jerry Rice into their hallowed club this past weekend, the world watched the greatest player in the history of the NFL write the final ...