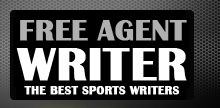 Yankee Addicts
Categories
Featured Sponsors
December 21, 2010 · Dylan MacNamara · Jump to comments


Toby Gerhart, the Vikings rookie running back from Stanford, coughed up a fumble early in the 4th quarter, effectively ending the Vikings chances of beating the Bears.
Late in the third quarter, Jay Cutler rifled in a short slant to wide receiver Rashied Davis, who made only his second catch of the season for the score.
While the Vikings will lose and drop to 5-9, the night wasn't completely unsuccessful. Joe Webb has played with a lot of moxie, showing athleticism and a strong arm. While the Vikings certainly won't leave the QB situation unaddressed in the offseason, Webb has been a pleasant surprise.
The Bears will clinch the NFC North crown with a win tonight.