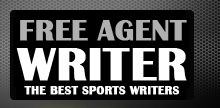 Yankee Addicts
Categories
Featured Sponsors
News published by
January 1, 2011
To say that Terry Ray has a unique perspective on the game of football may be an understatement, as the Belgium native has experienced the game on the high school, ...
July 2, 2010
Reports have surfaced which indicate that in 2010 former star running back Dominic Rhodes, 31, will join Jay Gruden's Florida Huskers of the United Football League. Despite going unselected after ...
May 23, 2010
For the second time in as many offseasons, future Hall of Fame wide receiver Terrell Owens, 36, is unemployed and looking for work with a NFL club. After a so-so ...
May 23, 2010
For clubs in the hunt for a dependable back-up quarterback, former St. Louis Rams signal caller Marc Bulger , 33, remains a viable option. Once regarded as the quarterback of the ...
May 18, 2010
Throughout the National Football League's storied history, there have been many players who were overlooked by league executives and went on to enjoy Hall of Fame careers. It seems that every ...
May 17, 2010
Despite being shorter and weighing less than their competitors, many undersized athletes in the National Football League are currently performing at an elite level. This list ranks the five best undersized ...
May 16, 2010
One of the most prestigious football programs in the NCAA, the University of Miami has arguable produced more NFL stars than any other institution in the country. Known equally for ...
May 15, 2010
  One of the biggest play-makers of the last decade, wide receiver Torry Holt , 33, has long served as one of the league's scariest deep-threats. After enjoying a stand-out career at ...
May 5, 2010
  Under the reign of former Denver Broncos' head coach Mike Shanahan , the Washington Redskins boast one of the National Football League's deepest backfields for the 2010 season. Leading the charge ...
April 27, 2010
For the last two seasons in the Canadian Football League, defensive ends John Chick , 27, and Stevie Baggs , 28, have anchored one of the top defensive units ...