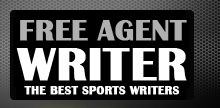 Yankee Addicts
Categories
Featured Sponsors
News published by
February 21, 2011
1. Carolina: Nick Fairley, DT                              2. Denver: Patrick Peterson, CB                           3. Buffalo: Da'Quan Bowers, OLB/DE             ...
February 6, 2011
NFL Hall of Fame 2011 Class Doesn't Include Legendary Receiver Cris CarterCris Carter caught a whopping 130 touchdown passing during his illustrious NFL career. Apparently, that wasn't good enough for him ...
February 6, 2011
NFL Hall of Fame 2011: Jerome Bettis Doesn't Get In on His First Try, Will He Get the the Nod in 2012?Jerome Bettis was a unique combination of power, size ...
February 6, 2011
NFL Hall of Fame voting isn't without controversy on the eve of Super Bowl XLV with seven new inductees and one surprising snub.Deion Sanders headlines the class of 2011, flanked ...
December 27, 2010
Mike Singletary has garnered plenty of attention for all the wrong reasons during what has been a disastrous season by the Bay.His latest sideline tantrum could end up being the ...
December 23, 2010
Rex Ryan's foot video and the chance to see wife Michelle Ryan's feet continue to burn up the magical Interwebs late Wednesday.In a matter of hours, the videos went from ...
December 20, 2010
2011 NFL Mock Draft features an abundance of talent on the defensive side of the ball, starting at or near the top with Clemson's Da'Quan Bowers.The massive defensive end is ...
December 13, 2010
Troy Polamalu provided the Pittsburgh Steelers with the spark they needed in Week 14 against the Bengals.After Cincinnati took an early lead, Polamalu intercepted Carson Palmer and ran 45 yards ...
December 8, 2010
National Anthem fails occur every now and then in the world of sports, but the Eli Young Band had an awful performance for the ages prior to the Kansas City ...
December 7, 2010
NFL Power Rankings Week 14 is here and features a logjam in the middle, with a number of teams mired in mediocrity at 6-6 on the season. Oakland blasted San Diego ...