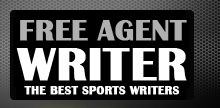 Yankee Addicts
Categories
Featured Sponsors
News published by
May 30, 2016
While still avoiding the risk of injuries, NFL teams aim to keep competition and motivation high. While not everyone on a roster is fighting for their jobs, thanks to a ...
May 29, 2016
Last year, the Houston Texans suffered through miserable quarterback play, an injury-plagued rushing attack and a reliance on DeAndre Hopkins to carry an otherwise mediocre receiving corps. This year, head coach ...
May 25, 2016
Had the 2016 NFL draft taken place at Radio City Music Hall instead, we might have seen the loudest collective groan and boo from New York Jets fans in a ...
May 23, 2016
For a draft to be deemed successful, more than half of a team's draft picks should make the roster and contribute for a few years. And while every team should expect ...
May 22, 2016
Zac Stacy, Devonta Freeman and Karlos Williams are just three of the recent Day 3 running backs who have surprised as rookies early in their careers. The rise of late-round ...
May 13, 2016
Many expect first-round picks to make early contributions for their respective NFL teams, with the possible exceptions of quarterbacks like Carson Wentz or Paxton Lynch. But that doesn't mean players selected ...
May 11, 2016
The Cleveland Browns are no stranger to the spotlight when it comes to negativity about their roster-building approaches. Drafting four receivers in the top five rounds of the 2016 NFL draft brought ...
May 9, 2016
Jared Goff and Carson Wentz went first and second overall, respectively, in the 2016 NFL draft. Just a year ago, Jameis Winston and Marcus Mariota did the same thing. Was quarterbacks ...
May 7, 2016
Teams aren't usually expected to find rookie starters on Day 3 of the draft. That projection is reserved for the first three rounds, where the talent is greater and NFL-readiness ...
May 6, 2016
After 253 draft selections and undrafted free agency, every team leaves the draft process confident in their picks and giddy with optimism to see their newly added long-term pieces on ...