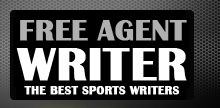 Yankee Addicts
Categories
Featured Sponsors
News published by
May 4, 2016
For NFL draft junkies and diehard fans of respective NFL teams, seven rounds just isn't enough. While undrafted players don't often contribute as rookies or even make the team long ...
April 29, 2016
While uncertainty dominated the storylines as to how the 2016 NFL draft would unfold, no one could have projected that Myles Jack of UCLA would have fallen out of the ...
April 27, 2016
Even after four months of NFL draft buildup, there are still players who will likely be drafted without any real buzz. The first- and second-round prospects have dominated the discussion ...
April 24, 2016
After suffering through a lackluster sophomore and junior campaign, Christian Hackenberg entered the draft process with much frustration from NFL scouts. He showed remarkable promise as a freshman under then-head ...
April 23, 2016
We often hear about prospects who may have benefited from their supporting cast enough to inflate their draft stock, so teams should potentially be wary of their upside. It's common ...
April 19, 2016
Less than 10 days away from the 2016 NFL draft, not every secret of the draft has been revealed. As quarterbacks, prospects with character or injury concerns and flashy athletes ...
April 16, 2016
Without considering Jalen Ramsey as a safety prospect, the top safety spot remains unclaimed for the 2016 NFL draft process. Boise State's Darian Thompson seems to have assumed the top spot, ...
April 15, 2016
No prospect who enters the NFL draft is without flaws, no matter how athletically or fundamentally special he is. At times, these flaws are overstated and unreasonably detract from a ...
April 12, 2016
Starting in the early 2000s, the value of the tight end position skyrocketed. While pass-catching tight ends have been prevalent in offenses throughout the NFL's history, today's NFL sees teams ...
April 10, 2016
There's more to playing linebacker or safety than being able to lay a big hit. But in the NFL, when occasional big plays can swing a game in the form ...