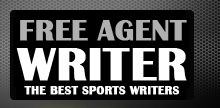 Yankee Addicts
Categories
Featured Sponsors
News published by
March 7, 2016
Every NFL team expects to find the draft's best prospect with their first-round pick. Drafting early gives teams a better chance to find impact players who fit exactly what they ...
March 5, 2016
In NFL draft discussions, there's occasionally a rift between a player perceived as "safe" and a player who has "upside." Too often, players narrowly fit into one of these categories, ...
February 27, 2016
Despite being a four-year starter in the Big Ten, possessing an ideal 6'5" build and garnering second-team All-Big Ten honors his senior season, Indiana's Jason Spriggs hadn't been able to ...
February 25, 2016
The NFL Scouting Combine is important for every prospect in attendance. It gives evaluators a chance to medically check each player, test them athletically on the field and begin to ...
February 23, 2016
Jeff Foster, president of National Football Scouting who organizes and orchestrates the NFL Scouting Combine each year, recently made the bold proposition that the organization was considering changing the NFL Scouting ...
February 21, 2016
As the staple of the NFL draft process, the NFL Scouting Combine offers all draft-eligible players invited to impress teams physically, athletically and mentally throughout the course of their stay ...
February 18, 2016
At most, 64 returner positions are up for grabs at the NFL level, a position that doesn't covet backups or turnover. Reliability is key for NFL teams in-season from their ...
February 14, 2016
Despite the remarkable frequency to which mock drafts are pumped out on the Internet, it's generally the same 40 or 50 prospects filling first-round spots. While mock-drafters may not be ...
February 12, 2016
While the tight end position has seen a plateau in offensive attention, it's still one of the most dynamic positions offenses can game plan with. But few tight ends leaving ...
February 10, 2016
The 2016 NFL draft process still has a ways to go before final big boards are ready. But we've already learned so much about the top and sleeper prospects in ...