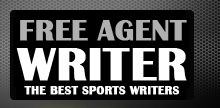 Yankee Addicts
Categories
Featured Sponsors
News published by
April 8, 2016
The NFL draft process is almost entirely about projections. While we can have a baseline about what players can be early in their NFL careers, prospects are drafted primarily about ...
April 5, 2016
Every year, the NFL draft doesn't quite go as planned. While sometimes teams struggle because of a lack of preparation, at other times it's just bad luck or the crazy ...
April 2, 2016
At just over 6'0", Nebraska's Lavonte David slipped on draft day until late in Round 2 thanks to concerns about how a linebacker at his size, despite all of his ...
March 28, 2016
As resolution of the NFL draft process nears, we still only have a few certainties about the 2016 class. We know that the top of the draft offers ample talent, ...
March 26, 2016
As the entirety of football fans turn to the draft in late April, preconceived notions and draft-process storylines begin to add fuel to the fire on a handful of narratives. ...
March 24, 2016
Drafting a quarterback is not just about need. It's about fit. Since they're in the most difficult position to transition from college to the pros, quarterbacks need offenses catered to ...
March 22, 2016
March is pro-day month of the NFL draft process, one that can provide value to evaluators, as well as become a prime area where "over-evaluation" can occur. That said, NFL ...
March 19, 2016
NFL teams value projection of prospects and athletic upside more than fans and NFL draft evaluators. Coaching staffs get involved in the process, and their confidence in their ability to ...
March 14, 2016
While we're still in the heart of 2016 NFL free agency, we've seen enough players moved to have a stronger idea of how teams value the 2016 draft class as ...
March 12, 2016
While Deshaun Watson received the Heisman consideration and national spotlight, it was the Clemson Tigers defense that grew into one of the nation's best. As the leader of the Clemson ...