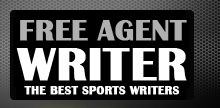 Yankee Addicts
Categories
Featured Sponsors
News published by
October 16, 2013
If you're a fan of the NFL's Thursday Night Football series, this news is music to your ears: According to a report from Matthew Futterman and Shalini Ramachandran of the Wall Street Journal (paywall), the league ...
October 5, 2013
Louisville quarterback Teddy Bridgewater is having an outstanding 2013 campaign, one that could lead to his name being the first one called out by NFL commissioner Roger Goodell next April. In ...
October 2, 2013
It appears the 0-4 Jacksonville Jaguars have started purging their roster of veteran talent, agreeing to send left tackle Eugene Monroe to the Baltimore Ravens Tuesday. According to NFL.com's Ian Rapoport, the Jaguars will ...
October 1, 2013
San Diego Chargers wide receiver Malcom Floyd won't be catching any more passes from Philip Rivers in 2013. On Tuesday, the team placed Floyd on injured reserve, ending his season.  NFL.com's ...
September 25, 2013
Week 4 of the 2013 NFL season will commence with a Thursday night showdown between two NFC West rivals, but the San Francisco-St. Louis clash is hardly the pinnacle of ...
September 24, 2013
If the Cleveland Browns trade wide receiver Josh Gordon this year, a future first-round pick should be part of the return package.  ESPN's Adam Schefter broke word on Sunday that the ...
August 27, 2013
The Dallas Cowboys will be without four-time Pro Bowl defensive tackle Jay Ratliff for at least the first six weeks of the 2013 NFL season.  That news comes as a result ...
August 6, 2013
Tim Tebow got his third NFL chance with the New England Patriots earlier this offseason, and so far, his performance during training camp has been consistent with what we would ...
August 4, 2013
As the old saying goes, "behind every great man there stands a great woman." Even men like newly enshrined Hall of Fame offensive lineman Larry Allen.  Allen was inducted into the Pro ...
August 4, 2013
We don't make any long-standing predictions for NFL rookies during the first preseason games of their careers, but doesn't stop us from keeping a closer eye on the newest crop ...