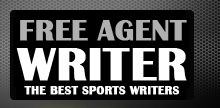 Yankee Addicts
Categories
Featured Sponsors
News published by
December 7, 2010
He couldn't get along with franchise QB Jay Cutler from the start, so we probably should have seen this one coming.  Josh McDaniels will certainly be employed by an NFL team ...
November 30, 2010
The parity continues in the NFL this season as there are several teams still in the playoff race. With the Jets and Patriots seemingly in a two-way battle for AFC supremacy ...
November 24, 2010
There's an unusual amount of parity around the NFL this season. With 14 of the 32 teams in the league with six wins or more, Week 12 presents a prime opportunity ...
November 23, 2010
Another week, and another miraculous win for the New York Jets. Are they as good as the Patriots? Can the Atlanta Falcons prove that they're actually the team for the ...
November 20, 2010
Every preseason, the hype begins to build.Which players are going to make for great late-round sleeper picks? Which veterans are in for a letdown season? How much depth is there ...
November 12, 2010
While some have been advocating Michael Vick as the early favorite for this season's MVP award, there are others debating just how long his new-found success will last. After attempting just ...
November 9, 2010
New York Jets: 6-2, T-First AFC East QB Mark Sanchez looks like a different man than last season and, despite the team's last two victories coming by the thinnest of margins, ...
October 27, 2010
Fantasy football owners have had to manage an inordinate amount of injuries this season in the NFL. Now headed into Week 8 of the season, it's a make it or break ...
October 21, 2010
Any owner with Dallas Clark and/or Austin Collie received a major blow to his or her team this afternoon.With the news that Collie has undergone hand surgery and will be ...
October 20, 2010
With more than a third of the season now behind us, fantasy football owners are looking for ways to keep their teams in the game. While most are searching for a big-name player ...