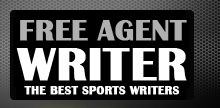 Yankee Addicts
Categories
Featured Sponsors
News published by
January 18, 2011
The NFL Playoffs have been unpredictable to say the least.After Tom Terrific and the unconquerable Patriots went down at the hands of Mark Sanchez and the New York Jets, nothing ...
January 15, 2011
These NFL Playoffs promise to be mighty entertaining. Rex Ryan continues to write checks that his team has shown incapable of cashing, most of the world continues to underestimate the surprising ...
January 12, 2011
There is an unbelievable slate of football on the horizon this weekend in the Divisional Round of the NFL playoffs. The New England Patriots and New York Jets square off ...
January 12, 2011
Ever since John Elway was introduced as the newest member of the Denver front office, there has been rampant speculation that quarterback Tim Tebow may not remain in a Broncos ...
January 11, 2011
It's no secret that QB Alex Smith is on his way out of San Francisco. The team has given the former No. 1 overall selection a plethora of opportunities to grab hold of the ...
December 24, 2010
It's the time of year when crazy things begin to happen. The holiday spirit is very much in the air, people are lighter on their feet and filled with joy, ...
December 24, 2010
QB Tim Tebow, Broncos It's pretty remarkable to fathom that Tebow has become fantasy football relevant, but that's exactly what has happened. With an incredibly favorable matchup against a historically bad Houston secondary, ...
December 23, 2010
It's Week 16 in the NFL, and teams in contention are fighting for their right to a postseason birth.Others not in the playoff hunt are looking to play spoiler, and ...
December 14, 2010
Jay Cutler, QB Chicago Bears After enjoying a miraculous two-game stretch where he did not throw an interception, Cutler was absolutely dreadful against the Patriots defense in Week 14. Throwing for a ...
December 14, 2010
The Week 15 Power Rankings are here and it's easy to guess which team is out on top. The question remains: can anyone even compete with the Patriots? The Falcons continue ...