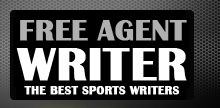 Yankee Addicts
Categories
Featured Sponsors
News published by
July 16, 2011
Talk all offseason from so-called "NFL experts" has pictured the Oakland Raiders to be in a terrible position once the NFL lockout ends.According to ESPN's John Clayton, the Raiders could ...
April 23, 2011
The 2011 NFL Draft is less than a week away and everyone in Raider Nation is speculating as to who will be the next Oakland Raider.Oakland doesn't hold a first-round ...
April 22, 2011
As the NFL Lockout drags on, many fans are wondering which direction their teams will be going this offseason.The Raider Nation is no different. The 2011 NFL Draft is less ...
April 8, 2011
The draft is just a couple of weeks away and talk is really starting to heat up about which positions the Oakland Raiders will focus in on.Oakland could, in all ...
April 7, 2011
The Oakland Raiders have scheduled a private workout with Nevada quarterback Colin Kaepernick. A Turlock native, Kaepernick grew up in a small town in the valley of California. Colin described himself ...
April 3, 2011
As the 2011 NFL Draft nears, rumors that the Oakland Raiders may take a quarterback are really starting to heat up. Although the Raiders do not own a first round selection ...
April 2, 2011
The NFL Draft is creeping up on us, and with it comes a sense of optimism among fans in Raider Nation.Many believe the 2011 Raiders will be a much improved ...
March 31, 2011
The Raiders are without a first-round pick in the 2011 NFL Draft and with glaring needs at offensive line, some in Raider Nation are calling to trade up into round ...
March 29, 2011
Late March.For baseball the season is finally getting started.For basketball, teams can practically smell the playoffs.For football? Fans can only have one thing on their mind: the NFL Draft. It's ...
March 27, 2011
Dear Crazed Kansas City Chiefs Fans, Fierce arguments are made daily on who the best team in the AFC West is, usually between Chiefs and Raider fans. Chargers and Broncos ...