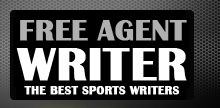 Yankee Addicts
Categories
Featured Sponsors
News published by
March 25, 2011
It's that time of the year, NFL fans.Hundreds of 2011 NFL mock drafts are being published all over the web, and they sure are causing a lot of debate amongst ...
March 24, 2011
Good week here Raider Nation.I somehow have a renewed feeling of confidence and faith in Al Davis, Hue Jackson, Jason Campbell and the whole Oakland Raider squad for ...
March 21, 2011
Month after month, articles are published all over the web detailing the Oakland Raiders draft busts. Seriously, it gets old. We in Raider Nation constantly hear about JaMarcus Russell, Todd Marinovich, ...
March 19, 2011
The quarterback.He's the most heralded, popular, important, and stressed player in all of sports.If you don't have a good quarterback, you will not be making the NFL Playoffs.That's why each ...
March 19, 2011
The Oakland Raiders and the NFL Draft.What a confusing topic. For years now, Al Davis and the Raiders have been criticized for more than questionable selections in the NFL Draft, ...
March 15, 2011
During the past couple of weeks, I've reiterated that the Oakland Raiders have had the most productive offseason of all 32 NFL teams. Raider Nation, think of this offseason as an ...
March 14, 2011
And it begins: The NFL Lockout 2011, which has been dreaded by fans, players, and owners alike, has officially started. Ouch. Who should take the blame here? Both sides are pointing fingers ...
March 11, 2011
Plaxico Burress is scheduled to be released from prison in early June of this year.That means he'll be on track to participate in the 2011 NFL season. "Plax" is expected ...
March 8, 2011
Ahh, the Oakland Raiders and the NFL Draft.Around this time of year is when the jokes about Oakland begins; how they'll draft a 39-year old crackpot who weighs 290 pounds ...
February 15, 2011
The Oakland Raiders have been doing all the right things this off-season.Actually, I'd say they've had the best off-season of all 32 NFL teams. While that's not saying a lot ...