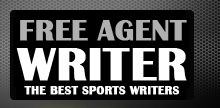 Yankee Addicts
Categories
Featured Sponsors
News published by
September 7, 2010
This year more than most years, rookies will have even more pivotal roles on title contending teams.  Be it teams that underachieved at playoff time looking to breakthrough or teams ...
September 4, 2010
ESPN.com is reporting that TJ will be released by the Seahawks in favor of a former USC product and Detroit Lions first-round pick, Mike Williams.  This is fortuitous news for the Bengals ...
August 30, 2010
The Cincinnati Bengals versus the Buffalo Bills certainly fit Buffalo's bill on Saturday night.  With the Bengals generally depleted of first teamers on both sides of the line, the Bengals ...
August 28, 2010
The ghosts of seasons past return to TO's present as the Bengals visit the Bills in the relatively hospitable confines of Ralph Wilson Stadium in Buffalo, New York.The Bills are ...
August 26, 2010
Reports are a-buzz as of 5:10 pm EST when ESPN.com reported that FoxSports.com (wow, how many .coms are involved) that "Bengals ready to release WR Antonio Bryant; he signed a ...
August 23, 2010
The Bengals continued their slow but steady climb to peak form.  In front of a raucous Paul Brown Stadium, the Bengals showed more poise—though the inconsistency was still very much ...
August 13, 2010
  As I-75 and the Suspension Bridge fill up and the the riverside is cleaned up as another team (the Cincinnati Reds) in another ballpark next-door (Great America Ballpark) clean up ...
August 10, 2010
The NFL had plenty of stories going on during week one of the pre-season.  The AFC was all abuzz with stories from positive, to negative, to simply curious.  Be it ...
August 7, 2010
As the Bengals completed Week One of training camp, the arrival of Terrell Owens had been absorbed into Bengals fans' hopes and dreams in 2010.  Though the week provided the ...
August 3, 2010
Not in recent memory has a Bengals camp started with such fanfare and success. A new personality in Terrell Owens has joined the Bengals. "Ocho Uno" and first-round draft pick ...