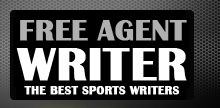 Yankee Addicts
Categories
Featured Sponsors
News published by
August 15, 2012
To what was likely a media ploy gone horribly wrong, former Bengal (and pretend Patriot) Chad "Ochocinco" Johnson likely took a calculated risk that went horribly wrong.  The marriage—or mirage ...
February 5, 2011
Surely it's premature but Jon has endorsed Jay in the Gruden family as Bengals.com reports the professional and familial admiration that comes with a balanced approach to the game.  Jon Gruden ...
February 3, 2011
Both ESPN and the Cincinnati Enquirer are reporting that Gruden—Jay Gruden that is—will take over as the offensive coordinator of the Cincinnnati Bengals, replacing the recently departed and embattled former ...
January 16, 2011
While the collective public waits with anticipation at what will occur in the push and pull between the owners—essentially a union you know as the National Football League (a.k.a. NFL) ...
January 14, 2011
Quite possibly the title of this article should be: "Cincinnati Bengals: Top 10 Changes Mike Brown Should Make For 2011."  Yet here is hoping that somewhere in the bowels of ...
December 27, 2010
The day after Christmas saw the strangest of sights in Cincinnati.  Terrell Owens—done for the season.  Chad Ochocinco—inactive.   Jerome Simpson — two touchdowns. Mother was in from Dayton and posed the ...
October 28, 2010
Well, it is that time of year again, the time of year where one can dress up like a fool or a freak and be given the tools be a ...
October 16, 2010
Tuesday, Oct. 12, 2010 started like any day as one would expect.  Though slightly warmer than crimson fall days of the past, New York City was bustling with the usual air of ...
October 2, 2010
Ocho is a twittering, TO is a speculating, Carson isn't talking.  Marvin Lewis is a grumbling.  Cedric Benson is waxing poetic.  What is going on in Cincinnati? The defense is ...
September 10, 2010
Week one will test the meddle of a team that is itching to prove itself in the Cincinnati Bengals.  While historical records mean nothing other than what occurred in a ...