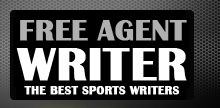 Yankee Addicts
Categories
Featured Sponsors
News published by
April 9, 2010
All indications are that Sam Bradford is about to become the latest quarterback selected No. 1 overall in an NFL Draft. Obviously, that will make him the first QB selected ...
March 23, 2010
March 23, 2010 With the start of the NFL Draft rapidly approaching and both ESPN and NFL Network putting the Packers "On the Clock" this week, it's time we take another ...
March 23, 2010
Have you ever seen the Wesley Snipes-Woody Harrelson movie "White Men Can't Jump"? Most of you over 30 probably have. Have you also noticed that people like Chris Rock, Charles Barkley, and ...