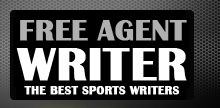 Yankee Addicts
Categories
Featured Sponsors
News published by
January 15, 2017
We're halfway home. With the divisional round of the 2016-17 NFL playoffs at the midway point, a postseason tournament that began with 12 teams now has six. Two of those teams have ...
January 15, 2017
We now know the first half of the NFL's final four. The divisional round of the 2017 NFL playoffs got underway Saturday, and in at least one respect it followed the ...
January 12, 2017
And then there were eight. Last week's Wild Card Round wasn't particularly wild. Not only did all four higher-seeded teams emerge with the win, but none of the games were especially ...
January 9, 2017
A prolific passing game under MVP candidate Matt Ryan propelled the Atlanta Falcons to the No. 2 seed in the NFC. Those achievements are nice and all, but they won't mean much if this ...
January 9, 2017
Wild Card Weekend is complete. One day after the Houston Texans and Seattle Seahawks won at home in convincing fashion, four more teams took to frigid playing fields Sunday to determine ...
January 7, 2017
On Saturday afternoon, the 2017 NFL playoffs get underway when the Oakland Raiders travel to Houston to face the Texans. For the Raiders, it's their first playoff appearance since getting throttled ...
January 5, 2017
The NFL's second season is underway. Or at least it will be on Saturday. This weekend brings with it the first round of the 2016-17 NFL playoffs. Wild Card Weekend. It's been a ...
January 3, 2017
After 17 weeks, 512 games and over 30,000 minutes of play, the 2016 NFL regular season is over. For 12 fortunate and successful franchises, the fun is only beginning. Teams from ...
January 3, 2017
With all due respect to the Pro Bowl and the All-Star Games in baseball, basketball and hockey, they are essentially popularity contests. It isn't an insult. In all of those instances, ...
December 25, 2016
The Houston Texans received an early Christmas gift on Saturday. Thanks to a listless performance from the Indianapolis Colts and a brutal injury that befell Tennessee Titans quarterback Marcus Mariota, ...