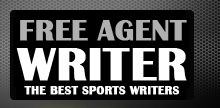 Yankee Addicts
Categories
Featured Sponsors
News published by
December 23, 2016
The New York Giants entered Thursday night with a clear edict: Beat the floundering Eagles in Philly, and the surging team would be in the playoffs for the first time ...
December 19, 2016
It's the most wonderful time of the year. No, I'm not talking about Christmas. I guess that's OK, if you're into presents and tinsel and holiday cheer and all that other ...
December 16, 2016
On Thursday night in Seattle, the Seahawks did what they were supposed to do. They dispatched the cellar-dwelling Los Angeles Rams 24-3 to move to 9-4-1 and wash off some ...
December 14, 2016
Week 14 of the NFL season was the epitome of an old saying for the Miami Dolphins. "I've got good news, and I've got bad news." The good news was a win ...
December 13, 2016
In today's pass-wacky NFL, quarterback is the league's most important position. Elite signal-callers dominate the MVP conversation and regularly earn in excess of $20 million a season. However, there's a flip ...
December 12, 2016
There's been no shortage of discussion regarding the success the Dallas Cowboys have enjoyed in 2016. No shortage of talk about the New England Patriots as they near yet another ...
December 9, 2016
The AFC South was arguably the worst division in the NFL in 2015. That same argument can be made again this year. But even in a bad division, there's good news. ...
December 5, 2016
You aren't going to find many anxious fans of the Oakland Raiders at the moment. Sunday's win over the Buffalo Bills lifted the first-place Raiders to 10-2 on the season. ...
December 2, 2016
To say that the 2016 season hasn't gone according to plan for the Cincinnati Bengals is one whopper of an understatement. A campaign that began amid hopes of a sixth ...
November 29, 2016
This wasn't how things were supposed to go for the Houston Texans in 2016. After winning the AFC South a season ago at 9-7 and getting smoked at home by the ...