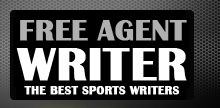 Yankee Addicts
Categories
Featured Sponsors
News published by
December 6, 2010
First let me say I will always take an ugly Browns win. Just keep them coming.At 5-7, after their 13-10 win over the Miami Dolphins, the Browns have been a ...
November 22, 2010
The Jacksonville Jaguars defeated the Cleveland Browns 24-20 despite losing the turnover battle six to one. When a team gets six turnovers they should win the game.  The Browns seemed content to ...
October 28, 2010
For the Cleveland Browns, the bye week has come at the perfect time. How they use their week off will determine how successful they are in the last nine games. Getting ...
October 18, 2010
The Cleveland Browns have been searching for their franchise quarterback since 1999. During that time, they've had just two winning seasons. This year's record stands at 1-5. With ...
October 15, 2010
The Cleveland Browns take on the Pittsburgh Steelers this Sunday in Pittsburgh. They are 14-point underdogs mainly because they will be starting rookie quarterback Colt McCoy. It will ...
October 10, 2010
The Atlanta Falcons taught the Cleveland Browns a thing or two about physical football and in the process, came away with a 20-10 victory. The score did not ...
September 28, 2010
In the midst of watching the Cleveland Browns lose yet another game they could have won, I had a flash back to a better time. A time when ...
September 13, 2010
Two Jake Delhomme interceptions, a Peyton Hillis fumble, and some poor play calling were the main reasons the Cleveland Browns lost a very winnable opening game. Leading 14-3 and ...
August 22, 2010
When Mike Holmgren signed Jake Delhomme a few days after Carolina released him, most Browns fans were confused. Why Delhomme? He's shot. Not so fast. So far Delhomme has performed ...
August 17, 2010
Could the "so-called" experts be wrong about the Cleveland Browns this year? It is real easy to say Cleveland will finish at the bottom in the AFC North ...