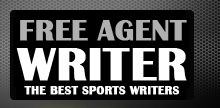 Yankee Addicts
Categories
Featured Sponsors
News published by
February 6, 2011
On the day when the NFL takes its place on the world's largest stage, Super Bowl Sunday, the NFLPA rolled out a panel of former players that would make anyone's ...
January 18, 2011
Don't look now, Dallas, but your resident football genius and redheaded step-son, Cowboys' head coach Jason Garrett, has just hired "The Dude" from The Big Lebowski—aka, Rob Ryan— to whip your ...
January 17, 2011
This is the second installment of an exclusive Bleacher Report interview with NFL Hall of Fame running back Emmitt Smith. Smith played on three Super Bowl championship teams and is ...
January 15, 2011
BleacherReport sat down with Emmitt Smith to talk about the NFL playoffs, the looming player lockout, and NFL running backs. Well, I was sitting. I assume Emmitt was, too. This ...
January 12, 2011
Nick Folk was drafted by the Dallas Cowboys in the sixth round of the 2007 draft. He was supposed to solve the team's kicking quandary for years to come. He ...
January 8, 2011
The time has come to make our picks for the NFL playoffs. Some do this at the beginning of a season, which is dicey and mostly an exercise in futility ...
January 7, 2011
Jerry Jones had to make a change at head coach. His hand was forced by an embarrassing 1–7 start, punctuated by a 45–7 shellacking at the hands of the Green ...
January 1, 2011
2010 was a miserable year for the Dallas Cowboys and their fans. It may well have been the most disappointing year in team history. Never fear silver and blue bloods: a ...
December 18, 2010
This time last year, Dallas Cowboys wide receiver Miles Austin was putting the finishing touches on his breakout year. The man from Monmouth, mysteriously overlooked by talent scouts coming out ...
December 8, 2010
"Outlined against a gray November sky, The Four Horsemen rode again Sunday in the Cotton Bowl. You remember their names: Death, Famine, Pestilence and Meredith." That opening line—penned by Gary Cartwright ...