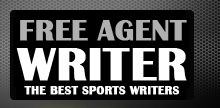 Yankee Addicts
Categories
Featured Sponsors
News published by
April 9, 2011
For these current NFL players, there really is no "Canton or bust." That is a misnomer. For these shining stars, it is simply a bust in Canton. A gold jacket. ...
April 8, 2011
The question under consideration today: Will Jerry Jones and his Dallas Cowboys pounce on Mike Pouncey with the No. 9 pick in the 2011 draft or will Prince Amukamara carry ...
April 6, 2011
One of the effects of the NFL player lockout is the impact it will have on careers, especially for older players and for those that play positions where longevity is ...
March 24, 2011
It remains to be seen whether Rob Ryan has the ability to coach up a defense as brilliantly as his dad Buddy Ryan. One thing that is not in question ...
March 23, 2011
"Pants on the ground. Pants on the ground. Lookin' like a fool with your pants on the ground." Dallas Cowboys wide receiver Dez Bryant has apparently received a criminal trespass ...
March 20, 2011
Rich Dalrymple of the Dallas Cowboys may have the toughest job in professional sports.  No. He does not play quarterback, cornerback or left tackle. To my knowledge, he has never had ...
March 18, 2011
Call it guerrilla warfare—or gorilla warfare, if you prefer. NFL Commissioner Roger Goodell decided to be the 800-pound gorilla in the living room of every NFL player. Unsuccessful in moving the ...
March 8, 2011
Sam Hurd is done in Dallas. The Dallas Cowboys elected not to tender the restricted free agent. In his four seasons with the Cowboys, Sam Hurd caught just 45 passes for ...
February 16, 2011
In the past month, I have been privileged to talk to such legendary Dallas Cowboys as Randy White, Emmitt Smith and Jimmy Johnson. When the conversation turned to what went wrong with ...
February 8, 2011
Aaron Rodgers was named MVP of Super Bowl XLV and all he got for winning the award was the key to a shiny, red Camaro convertible. That is chicken feed compared ...