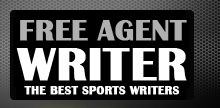 Yankee Addicts
Categories
Featured Sponsors
News published by
July 30, 2010
It's that time of year again; almost like Christmas for football fans, when questions are answered and rosters are finalized as teams prepare for the regular season. The process is slow, ...
July 29, 2010
Fasten your seatbelts NFL fans. The 2010 season is coming. It will surely be one for the history books. Veterans will test their experience and talents in new cities, while rookies look ...
July 28, 2010
Who wouldn't be smiling? If you're the No. 1 overall pick in the NFL Draft you have it made, especially if you're a quarterback. You never have to set foot on an ...
July 21, 2010
When Colt McCoy fell to the Cleveland Browns at pick No. 85 in the third round of the 2010 NFL Draft, it appeared he had been put in the right situation. There are ...
July 13, 2010
The slot receiver isn't your typical big star. He doesn't enjoy the open field and he grinds with linebackers and safeties who are looking to take his head off every play. ...
July 12, 2010
It's an exciting time of year for Philadelphia Eagle fans. Training camp is right around the corner, and soon, all the pieces to the puzzle will come together for a successful ...
July 2, 2010
New faces, new places. The 2010 NFL off-season saw some big changes that changed the face of the NFL. I mean, did you ever think Donovan McNabb would end up on the ...
July 1, 2010
Well Michael Vick, it appears your tumultuous career is coming to an end. Yet again, the controversy surrounding Vick has made headlines, followed by the questions concerning his future in the ...
June 25, 2010
Let me just start off by saying I know there is a Brett Favre nation out there, so I am not here to Brett bash. No doubt he has stamped his name ...
June 18, 2010
"Gang Green." No, I'm not talking about the disease, I'm talking about the Philadelphia Eagles defense during the Buddy Ryan era. Philadelphia built their franchise around the all-time greats like Reggie White, ...