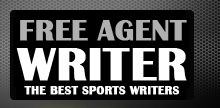 Yankee Addicts
Categories
Featured Sponsors
News published by
January 2, 2011
After making the sacrifice to my memorial to the 49ers by sticking pins into a Christmas Rams helmet ornament, by divine right, and in the name of world peace, but ...
December 27, 2010
No one ever said that taking over the bombed-out ruins of once-vaunted football empire would be an easy task for a dynamic Jed York.We knew that when he hired venerable ...
April 24, 2010
Sports "experts," goads of sports writers and columnists, all kinds of talking heads on radio and TV who talk way too much, and even his former coach don't believe in ...
March 30, 2010
NFL Commissioner Roger Goodell has performed superbly as commissioner, but he and the NFL owners laid a rotten egg with the new overtime rule. On Sirius NFL Radio, former ...
March 27, 2010
Rumors of the 49ers' front-office shuffle have been greatly exaggerated. San Francisco Chronicle and San Jose Mercury News columnists obviously didn't get the memo from the visiting Chester Pitts, who said, ...
March 22, 2010
I have never heard so many snivelers as I have heard talking about the potential change to the NFL's overtime rule. Would Vince Lombardi have ever favored the "do-overs," as Carl ...
March 19, 2010
San Francisco 49ers operating owner Jed York has once again shown he is a class act. Under what must be difficult circumstances, he has shown his characteristic and praiseworthy ...