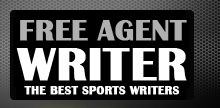 Yankee Addicts
Categories
Featured Sponsors
News published by
May 2, 2010
With the 2010 NFL Draft in the past, the next offseason event to look forward to is training camp, following Organized Team Activities and Mini-Camps. Every year in training camp, certain ...
April 24, 2010
The 2010 NFL Draft is officially in the books, and the Buffalo Bills have nine new additions to their team. Buffalo made some decisions during the three-day event that left fans ...
April 17, 2010
With Donovan McNabb now donning a red and gold jersey, Jimmy Clausen no longer seems like a possibility at No. 4 overall in the upcoming draft. Cleveland at No. 7 ...
April 15, 2010
While the rest of the AFC East seems to be in a high-profile transaction frenzy this offseason, the Buffalo Bills have been taking an approach much different from that of ...
April 9, 2010
With the 2010 NFL Draft starting just two weeks from today, the time has come to make my predictions as to who I think will be the newest players donning ...
April 3, 2010
Prior to Buffalo's switch to a 3-4 defense, the Bills' biggest need on defense going into the draft was simple: Replace Keith Ellison at outside linebacker. Drafting a rotational defensive tackle ...
March 30, 2010
While the coaching staff overhaul for the Buffalo Bills this offseason may be highlighted by the hiring of new head coach Chan Gailey, perhaps the hiring with the most impact ...
March 24, 2010
Playing at a Division I-AA school makes it hard enough for a player to get noticed by NFL scouts. Being snubbed by the NFL Combine makes it even harder. However, position ...
January 10, 2010
With the Buffalo Bills 2009 season finished and their top-10 draft pick (No. 9) sealed, the time has come to start looking ahead to how the Bills can improve their ...