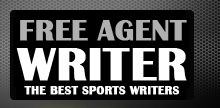 Yankee Addicts
Categories
Featured Sponsors
News published by
August 12, 2010
Just a month ago, I predicted that Naaman Roosevelt would end up not making the Buffalo Bills final roster this season, and that is still a distinct possibility. However, Roosevelt also ...
August 2, 2010
Ever since he got into OTAs and minicamps, reports about C.J. Spiller's skill set and play have been great. Reports about his contract negotiations with the Bills, however, have been the ...
July 12, 2010
With the Madden 2011 player ratings being released, Bills' fans and Madden enthusiasts alike are probably less than thrilled that their highest rated player is—drumroll please—punter Brian Moorman (he also ...
June 30, 2010
As we get closer and closer to training camp, position battles are starting to heat up. Some positional competitions to keep your eye on as the Bills head to St. John ...
June 22, 2010
There have been plenty of questions swirling around the Buffalo Bills wide receiver position this offseason, especially with the departure of Terrell Owens and longtime Bill Josh Reed. Who will take ...
June 12, 2010
The Buffalo Bills left tackle situation is anything but certain at this point, and for the most part has been cause for concern this offseason. But upon further inspection, Jamon ...
June 5, 2010
For the third installment of my Buffalo Bills All-Time Positional Rankings series, I'll be taking a look at the five best wide receivers to ever play in Buffalo blue. Jerry Butler, ...
May 27, 2010
In the second part of my new installment of ranking the top five Buffalo Bills in history by position, I will be taking a closer look at the running backs. If ...
May 20, 2010
Let's face it: right now, we are in perhaps the most boring period of the year as far as the NFL goes. But that doesn't mean we can't amuse ourselves by ...
May 7, 2010
The draft may be over, but the offseason moves in Buffalo look like they may still be continuing. According to ESPN.com's Adam Schefter, the Bills are going hard after Baltimore Ravens ...