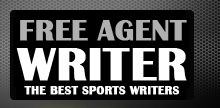 Yankee Addicts
Categories
Featured Sponsors
News published by
August 31, 2010
Oh yes, drafts are all finishing up this week and next and some people are already scouring the waiver wire to find those hidden guys that nobody drafted or to ...
August 30, 2010
It's about this time of year that reading the next must-read fantasy pre-draft article looks about as appealing as a dude in Shape Ups (take note Joe Montana).  I read all the ...
August 28, 2010
I am not one to focus too much time or effort on the preseason and I usually don't let it impact my fantasy draft thought process outside of any major ...
August 26, 2010
In a continuing series, I am going to look at some of those WR's that you should keep an eye on that fall outside the realm of no brainers. As ...
August 24, 2010
Lately I have been noticing players that are getting drafted dumb late for their value.  I think this happens because ESPN has them ranked low, and when people are drafting, ...
August 19, 2010
As everyone starts to get amped up for their drafts, which will ensue over the next couple of weeks, we are working to provide coverage on as many key players ...
August 17, 2010
Here are some takeaways after the first week of preseason games: Anthony Dixon/Brian Westbrook - Well, Anthony Dixon lit it up only to have San Fran sign Brian Westbrook.  Westbrook will be ...
August 13, 2010
Every fantasy season there are a handful of players that get taken early who turn out to be  busts. The reasons for being regarded as a bust can range from injuries ...
August 10, 2010
Here are five players to consider later in your drafts this year; catch em' while they are sleeping and build a solid bench.   1. Mike Williams It's not too much of a ...
August 3, 2010
In no particular order here are some of the rookies I am targeting in my 2010 fantasy football drafts. Ryan Mathews - Ryan Mathews landed in an optimal situation in San ...