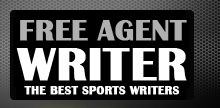 Yankee Addicts
Categories
Featured Sponsors
News published by
July 27, 2010
The first four rounds of the draft a vital to your fantasy football season; I for one will only be drafting running backs and wide recievers with a goal of ...
July 23, 2010
Well, after a long hiatus from writing, I am finally getting back into the flow as the fantasy season is right around the corner. This offseason was one of the more ...
July 20, 2010
Please let me make my case about drafting quaterbacks in the fifth round and I am going to look at PPR type scoring as this is one of the most ...
July 14, 2010
Article written by: Jim Dingeman   We all have them.  The guys you have unconditional love for, the guys you can't get over, the guys you have to draft.  They're sitting there, just ...
July 13, 2010
  I am going to be going through my top 16 players of 2010, so you know who to draft with your first round pick of 2010.   1. Adrian Peterson That's right, No. ...
July 8, 2010
Miles Austin Austin emerged as Dallas' clear number one receiver last year, putting up some staggering numbers with 80+ receptions, over 1300 yards and 11 TDs.  He's one of ...
July 7, 2010
James Jones   It's no secret that Donald Driver is missing a ton of off-season practices with his bad knees. James Jones is seeing all the work in Driver's absence, and it ...
July 2, 2010
Who is this year's Miles Austin? Almost anyone can draft for the first few rounds, but it's the late rounds where fantasy football championships are won. Your first mission of ...
June 23, 2010
Hakeem Nicks Hakeem Nicks comes into his sophomore year in New York and with Hixon going down for the year, it appears Nicks will have less competition to be on the field in ...
June 15, 2010
This year you are going to see tight ends flying off the shelf starting in the fourth and fifth rounds od fantasy drafts, which are prime rounds for your quarterback, ...