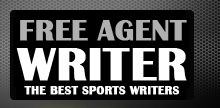 Yankee Addicts
Categories
Featured Sponsors
News published by
May 22, 2010
I've spent majority of my time, since the last I've written a article, going around the AFC West BleacherReport.com sites and commenting on how I felt about the other teams. That ...
April 29, 2010
The San Diego Chargers.  Many analyst and fans alike say many things about the Chargers—somewhere on the grounds of being the most talented team in the entire NFL.  Statements like, ...
April 26, 2010
This isn't a article about the draft or if it was worth it to get Ryan Mathews versus the picks the Chargers gave up for him.  This is an article ...
April 20, 2010
I know all you Charger fans are cringing at me but hear me out for a second.  I think keeping Sproles is the best investment the Chargers have made this ...
April 3, 2010
  This coming year will be just SUPER for the Chargers! Let's just breathe a bit before you guys start criticize me about having such a bold statement for my headline.  You folks ...
March 18, 2010
To start thing off, I'm just going to say, I'm sick of hearing people talking about the Chargers drafting a running back in the first round of this year's draft. I'm ...