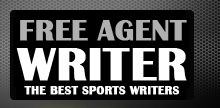 Yankee Addicts
Categories
Featured Sponsors
News published by
September 1, 2010
With all the questions regarding the Chargers run defense since the end of last season, there will be no more of a truer test than facing the 49ers in this ...
August 28, 2010
I've been reading a couple of articles as of late.  Many articles pointing to the "fact" that Vincent Jackson should be traded soon in order for the San Diego Chargers ...
August 25, 2010
I got into a little debate with a Raider fan a long time ago.  The debate was based on a article I wrote awhile back appropriately named "Pick Your Poison: ...
August 21, 2010
What does the Pittsburgh Steelers, the Indianapolis Colts, the New England Patriots, have in common with the San Diego Chargers?They all have success practically every year in their division.Every single ...
July 30, 2010
The Chargers have arguably been one of the most consistent dominating offensive team in the NFL. The question falls on the 2010 season whether they are able to still ...
July 27, 2010
Believe me, this wasn't a easy article to do. The Chargers in my eyes don't have many weaknesses. They addressed some parts of their game that needed to ...
July 9, 2010
I've read many articles about who's the best team in the AFC West and who will beat who. Whatever. I decided to break down the positions a bit ...
June 17, 2010
There has been much debate about how A.J. Smith handled the Vincent Jackson and Marcus McNeil situation.  Many fans called for Smith to get fired.  Many fans have called for ...
June 8, 2010
The Bears had quite the off-season the past two years with free agent acquisitions, trades, draft, depth chart changes, and offensive philosophy changes.  With all the acquisitions the Bears have made, ...
May 31, 2010
You must be wondering why do I have a picture of Drew Brees up as a Charger for this article.  Well, this is basically a article about the analyst, the ...