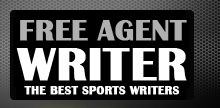 Yankee Addicts
Categories
Featured Sponsors
News published by
March 15, 2010
Has Browns President Mike Holmgren been divinely inspired?  He brought in free agent ILB Scott Fujita from the world champion Saints as his one and only defensive addition thus far.  ...
March 13, 2010
Round Four, Pick 102 3-4 Defense: SS Darrell Stuckey, Kansas WCO Offense: OG Mike Johnson, Alabama Combo Pick: Stuckey Stuckey is an explosive tackler with good size and speed.  His only real weakness is ...
March 12, 2010
Considering the deficiencies of personnel for the 3-4 defense, which is in place already, and the effort underway to convert to the West Coast Offense (WCO) that will require additional specialized ...
March 4, 2010
Jacob Hickman, a three-year starting offensive lineman at Nebraska, was invited to Indianapolis this week to participate in the NFL combine. Politely, he declined. "I didn't feel the need to ...