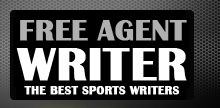 Yankee Addicts
Categories
Featured Sponsors
News published by
April 22, 2010
Well, it looks like I had one more mock draft in me. After going through the latest updates of the draft prospect risers and fallers, I have my final view ...
April 19, 2010
Can this young man lead the Cleveland Browns out of the "Decade of Draft Doldrums?" We will find out in a matter of days.  Quick capsules included for players I have ...
April 14, 2010
Where does safety Eric Berry land and how important is he to the Cleveland Browns draft plans?  Those are the questions that will determine the "trade strategy" the Browns will ...
April 5, 2010
Quick Hit: With the acquisition of Donovan McNabb, Washington is no longer in the running for QB Jimmy Clausen, and the focus should turn to the offensive line to help protect McNabb. How ...
April 3, 2010
In preparing this mock draft, it would be good to review the offseason transactions to date.   By Trade: QB Seneca Wallace, CB Sheldon Brown, LB Chris Gocong   By Free Agent Acquisition: ...
March 21, 2010
Whether or not 2010 is the year Mike Holmgren finds his West Coast QB of the future, a quarterback will be drafted.  Here is a look at some late round ...
March 20, 2010
With all of the discussion on the Cleveland Browns drafting a quarterback in the 2010 draft, the questions have focused on: Who should Cleveland take? and What round should the Browns use a draft ...
March 19, 2010
With a month before the NFL draft, the Cleveland Browns have had an active offseason.  They have acquired several players to shore up weaknesses mostly on the offensive side of ...
March 19, 2010
Former Browns quarterback Derek Anderson was an All-Pro in 2007. With a strong running back in Jamal Lewis and talented pass catchers in Braylon Edwards, Kellen Winslow Jr., and Joe ...
March 16, 2010
So Mike Holmgren has put an end to the QB madness in Cleveland: Anderson and Quinn are gone.  Delhomme takes the reins and Wallace waits in the wings in case the ...