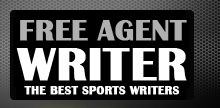 Yankee Addicts
Categories
Featured Sponsors
News published by
April 25, 2011
The 2011 NFL draft is almost here, and with no free-agency period, and the very real possibility that this will be the only meaningful activity in the NFL for some ...
March 4, 2011
It seems as though Ted Thompson is able to find a small school gem in almost every draft class. In 2005, Thompson drafted Nick Collins out of Bethune-Cookman, in 2006 his ...
February 13, 2011
With the Super Bowl celebrations mostly out of the way, the Packers and their fans can set their sights on this April's draft, which, barring a labor agreement between the ...
December 14, 2010
The Packers' loss on Sunday to the Detroit Lions was a crushing blow to both their egos and their playoff hopes, but perhaps the biggest news to come out of ...
November 9, 2010
Today marked the end of Al Harris' career as a Green Bay Packer. Harris, who had been on the PUP list this season due to a serious knee injury sustained ...
October 28, 2010
Week seven was another crazy week in the NFL. The Browns pulled off a huge upset over the defending Super Bowl champs, The Bill nearly pulled off the upset of ...
October 14, 2010
If the NFL was hoping for parity, they got their wish. Not a single team this season went 4-0 and nearly half the teams in the league are 3-2 or ...
October 9, 2010
At the start of the season, Packer fans, Packer players, the national media, and even Las Vegas oddsmakers had picked the Green Bay Packers as a Super Bowl favorite, and while ...
October 7, 2010
Week 4 saw the two out of the three unbeaten teams suffer their fist loss, leaving only the Kansas City Chiefs, who were on a bye, as the only unbeaten ...
September 16, 2010
Week 1 of the NFL season was full of upsets, offensive fireworks, defensive standoffs, season-ending injuries, and all-around great games. Week 2 promises some great division rivalry games, teams out ...