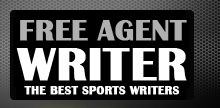 Yankee Addicts
Categories
Featured Sponsors
News published by
September 8, 2010
This is the first of the new weekly column 10 things you must see in the NFL this week. In this column, I will be looking at some of the most interesting ...
August 31, 2010
Maybe it's my pessimistic nature as a sports fan, but I tend to spend a lot more time thinking about the weakness' of my favorite teams rather than their strengths. And although the Packers strengths ...
July 27, 2010
This was a pretty quiet offseason by NFL standards, in large part due to the lack of a new collective bargaining agreement. Many players who would have been unrestricted free ...
July 18, 2010
Johnny Jolly's year long suspension came as a surprise to many Packer fans and experts alike. On the surface, the suspension seems harsh considering that Jolly has not been in any ...
July 15, 2010
As polarizing as Ted Thompson is for many Packer fans, it's hard to argue that he has built a young and talented team. Whether or not this team be will be ...
July 12, 2010
Ted Thompson has made some great moves as the Packers General Manager, but like all General Managers in the NFL, Thompson has made some moves that if he could do ...
July 5, 2010
The Green Bay Packers have one of the deeper wide receiving groups in the NFL. Donald Driver and Greg Jennings are obviously the top two receivers on the team, but ...
June 26, 2010
Players such as Percy Harvin, Brian Cushing, Clay Matthews, and Michael Oher had big impacts in their rookie seasons, garnering attention from fans and media alike. But there are many ...
May 31, 2010
With no free agent signings thus far and only rookie strong safety Morgan Burnett expected to make a run at the starting line up, the Packers will enter the 2010 ...
May 21, 2010
After the Packers lost a heartbreaking shoot-out against the defending NFC champion Arizona Cardinals in the first round of the playoffs last year, most Packers fans came away from the ...