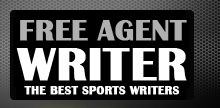 Yankee Addicts
Categories
Featured Sponsors
News published by
April 27, 2010
As a fan of football (the NFL in general), I am growing increasingly distraught with its policies—the pay scale to be more specific. It's becoming impossible and a frustrating process to ...
April 27, 2010
As a diehard Charger fan, I keep a close eye on the other AFC west rival during the offseason. I have to say, my hat is off th the Kansas ...
April 27, 2010
Im a die hard Charger fan, and over the last 5 years I've viewed the Broncos as the team to beat. After this years draft, I have changed my mind. ...
April 27, 2010
Alan Faneca has been released? Are you kidding me? Here is the latest in a series of questionable moves from Jets head coach Rex Ryan! It all started with the introduction of ...
April 26, 2010
"I was ecstatic." That's what Ryan Matthews said when asked how he felt about being drafted by the Chargers. "I felt pretty sure I would be drafted by the Texans or ...
April 26, 2010
Is he staying or going? Alas we get to watch another Favre watch. With the combines, scouting reports, and draft all a thing of the past, we will be treated ...
April 13, 2010
The Buffalo Bills recently reported to the NFL network and Adam Shefter that they are putting Marshawn Lynch on the trading blocks. That was kind of expected, but what wasn't ...
April 11, 2010
LaDainian Tomlinson is at it again. Recently he went to the New York Daily news with another onslaught of criticism against the San Diego Chargers. He stated not only was ...
April 1, 2010
Every day on BleacherReport, we see articles on who we should draft. We also see free agent pick-ups we need, and many valid points are made. We see over and ...
March 31, 2010
As a diehard Charger fan, I had lots of allies to choose from:  Rivers, Jackson, Gates, Sproles. But honestly, the biggest contributor to their success has been Josh McDaniels. Speaking ...