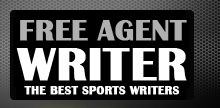 Yankee Addicts
Categories
Featured Sponsors
News published by
November 18, 2010
The Cleveland Browns top three wide receivers are Mohamed Massaquoi, Joshua Cribbs and Brian Robiskie.Over the first nine games, the three have combined to catch 41 passes for a total ...
August 25, 2010
As training camp winds down and we are headed into the third preseason game, the competition for the open positions at cornerback appear to have come down to rookie Joe ...
August 18, 2010
The Cleveland Browns receiving corps have been criticized almost universally in every form of offseason media. Athlon Sports gave the Browns receivers a grade of D and NFL.com ranks Mohamed Massaquoi ...
August 17, 2010
The Browns vaunted running attack is the basis upon which the offense is built. With backs like last year's late-season phenom Jerome Harrison and rookie camp sensation Montario Hardesty, hopes ...
July 2, 2010
Deceased Bengals wide receiver Chris Henry suffered from Chronic Traumatic Encephalopathy (CTE), which is a form of brain damage that likely resulted from too many hits to the head. CTE was ...
June 30, 2010
The Cleveland Browns ended 2009 on a surprising four game winning streak, but that still only left them with a 5-11 record. During the offseason, owner Randy Lerner took a ...
June 24, 2010
In the 2010 offseason a lot of attention has been paid to the Cleveland Browns' passing game. Who will the quarterback be? Will Jake Delhomme rebound? Is Colt McCoy the real deal? Are the ...
June 23, 2010
Shawn Lauvao was the Browns third round pick from Arizona State in the 2010 NFL Draft. Lauvao played left tackle in college, but is being groomed as a smashmouth starting ...
June 19, 2010
Baltimore Ravens General Manager Ozzie Newsome and his staff have quietly put together one of the best offseasons in the NFL in 2010. Considering the Ravens made the divisional round of ...
June 18, 2010
Browns rookie safety T.J. Ward was the 38th pick in the 2010 NFL Draft and has his eyes locked on the starting free safety position. T.J., whose first name is Terrell, ...