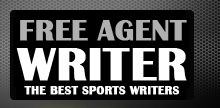 Yankee Addicts
Categories
Featured Sponsors
News published by
June 17, 2010
2007 Heisman Trophy winner Tim Tebow combines an uncanny ability to play quarterback with a devout faith in Christianity. The Denver Broncos selected the former Florida Gator in the first ...
June 16, 2010
The Cleveland Browns have had an offseason bustling with activity at every turn. There were roster moves galore, trades, free agent signings, and holdouts. The NFL draft was the ...
June 15, 2010
All-Pro pass rushing linebacker Elvis Dumervil signed his first and third round restricted free agent tender Monday. Unless a long term contract extension can be negotiated, he will play for ...
June 14, 2010
There is a significant chance that all seven choices of this year's draft not slated for clipboard duty could see valuable time with the Cleveland Browns this season. With the exception ...
June 14, 2010
The Cleveland Browns restricted free agents are playing with fire if they don't sign their tenders by June 15th. In all but one case, the tender amounts are raises of ...
June 12, 2010
Undrafted rookie wide receiver Johnathan Haggerty continues to turn heads, including the most important one of all, Coach Eric Mangini. Haggerty, whom Cleveland's The Plain Dealer calls this year's "it" undrafted ...
June 9, 2010
Cleveland Browns middle linebacker D'Qwell Jackson led the NFL in 2008 with 154 tackles and was seemingly on his way to stardom under Coach Romeo Crennel's 3-4 defense. Promises were allegedly ...
June 9, 2010
It's summer, which is the hardest season of all for the die-hard NFL fans. Last season is in the books, The bulk of free agency has swept by, and the NFL ...
June 8, 2010
The St. Louis Rams have acquired Isaac Bruce from the San Francisco 49ers and have announced his intention to retire at a press conference on June 9. For 14 years Bruce ...
June 7, 2010
According to a number of news reports on Sunday the Cleveland Browns have moved Mike Adams from free safety to nickel corner in favor of rookie T.J. Ward. If this is ...