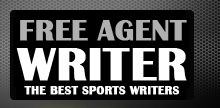 Yankee Addicts
Categories
Featured Sponsors
News published by
December 31, 2010
This is just a quick thought for all of you Redskins fans out there to mull over as you celebrate the New Year, wherever you might be.ProFootballTalk suggests that Redskins ...
December 4, 2010
It's difficult to come up with something interesting to talk about regarding the Washington Redskins at this point, five games away from the 2010-11 season finale.Though the team has been ...
November 19, 2010
Gut check time in Washington.The Washington Redskins just suffered the franchise's most humiliating defeat since the 1940's, a 73-0 loss to the Chicago Bears in the NFL Championship game.The game ...
November 4, 2010
So it's the bye week at Redskins Park and many Redskins fans are just starting to come to grips with the weird nature of the Donovan McNabb benching last week.Given ...
October 2, 2010
The Washington Redskins defense has been pretty underwhelming during the first three weeks of the 2010 NFL season, bringing up the rear of the league in total defense thus far.The ...
September 17, 2010
So lets just get the obvious out of the way: the Washington Redskins have a ridiculously large need for another wide receiver. Other than Santana Moss, Washington has a geriatric, ...
June 27, 2010
It's Super Bowl or Bust for the 2010 Baltimore Ravens. To put it another way; anything short of Ray Lewis hoisting his second career Lombardi Trophy would be a ...
June 27, 2010
Despite a lackluster free agency period and limited draft choices, the Washington Redskins enter 2010 looking remarkably better than they did in 2009. Choosing Mike Shanahan and Bruce Allen ...
May 3, 2010
Entering the offseason, the Baltimore Ravens had two primary needs.The first was at wide receiver, where the team has improved in spades this year. The second was making sure the ...
May 3, 2010
For the first time in a while, the Redskins were not the most exciting team in the offseason. Sure, they traded for a new franchise quarterback in Donovan McNabb, ...