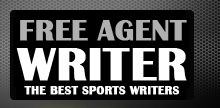 Yankee Addicts
Categories
Featured Sponsors
News published by
April 19, 2010
After the Donovan McNabb trade, the Washington Redskins draft needs are now very much clear. Option 1: Take an offensive tackle Option 2: Trade down, and then take an ...
April 5, 2010
In a move that can only be called stunning, the Philadelphia Eagles have traded franchise quarterback Donovan McNabb to their division rival, the Washington Redskins, for picks in the 2010 ...
March 24, 2010
The National Football League owners have finally done something about their overtime system. Well, for the playoffs anyway. And only when there's a field goal involved. It used ...
March 20, 2010
No matter who the Baltimore Ravens draft, sign, or otherwise add from here on out, WR Anquan Boldin will be the biggest get this team has for the 2010 squad. ...
March 20, 2010
"Yesterday's weirdness is tomorrow's reason why." — Hunter S. Thompson You know things have gotten strange when a team makes headlines for what it's not doing. Indeed, ...
February 28, 2010
One of the things that everyone seems to forget about the NFL Combine is that there are other players on the market besides the 2010 NFL Draft class; there are ...
February 20, 2010
Baltimore Ravens General Manager Ozzie Newsome stated recently that the club was going to take some chances this offseason. The team wasted no time in making good on that promise by ...
February 15, 2010
There are few Ravens observers who would disagree with the notion that Baltimore's top offseason need a legitimate No. 1 receiver, whether that comes from the draft, trade or free ...
February 13, 2010
Before I go any further, let me explain that I hate writing articles where I use the word "I." And there I've gone and done it four times in ...