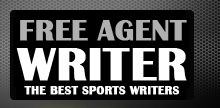 Yankee Addicts
Categories
Featured Sponsors
News published by
April 23, 2011
With less than one week until the 2011 NFL draft, the Green Bay Packers find themselves in the best position of any team.  They will close out the first round ...
January 3, 2011
The Packers suffered an immense amount of injuries this season and due to that fact many inexperienced players had to step in and contribute.  Some of these players did a ...
October 2, 2010
First off, last week was terrible.  I won't even begin to get into the monstrosity that was last week's game. That being said, what can we expect this week?  More than ...
August 22, 2010
The first team offense has scored on all four possesions with ease so far half way through the preseason. Aaron Rodgers has completed 20 of 24 passes so far and JerMichael ...
August 15, 2010
First let's start with the bad.  While I think Sam Shields can make the team as a CB, I think he won't as a KR/PR. He muffed a punt that was ...
August 14, 2010
This is a list of the 10 greatest running backs in the history of the NFL.  It's very hard to compare stats from generation to generation, so this list wasn't ...
August 11, 2010
Like last year, the Packers will start off the pre-season against the Cleveland Browns.  Last year, the talk of the town was the new 3-4 defense.  This year, with serious Super ...
August 6, 2010
Each year there's always a couple of players that make an impact in the regular season that seemingly come out of nowhere.  This is a list of the top five ...
August 2, 2010
Desmond Bishop is once again becoming the Packers' August MVP.  He has led the team in preseason tackles in two of his first three years in the league and ...
July 30, 2010
This is a list of five important facts and statistical oddities that occurred last season or over the last couple of seasons that are important to know when drafting your ...