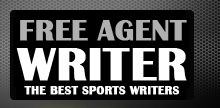 Yankee Addicts
Categories
Featured Sponsors
News published by
March 3, 2013
So, the Kansas City Chiefs and San Francisco 49ers have agreed to a deal that will send quarterback Alex Smith to the Chiefs for the Chiefs' second round pick this ...
April 9, 2011
Every year, fans around the league ponder what collegiate stud their NFL team of choice will select in the NFL draft. Sometimes teams can find that player who turns into ...
April 8, 2011
ESPN draft experts Todd McShay and Mel Kiper make a living off of not agreeing with one another about where America's top college football players will make their professional livings. Each ...
December 15, 2010
While it appears the Kansas City Chiefs have made great strides in turning themselves into playoff contenders in 2010, they still have a few glaring needs they must fill in ...
November 25, 2010
The Seattle Seahawks have played every other quarterback from the AFC West this season, and now it's Matt Cassel's turn. Here's how his peers from the division played against the ...
November 18, 2010
After three consecutive weeks of rushing for more than 200 yards as a team, the Kansas City Chiefs had the most feared rushing attack in the NFL. Then they ran ...
November 2, 2010
More than a century ago, Kansas City represented the last great trading post for those heading out on the Santa Fe, Calif., and Oregon trails. Settlers from all points East ...
October 31, 2010
There is one reason that the Buffalo Bills have yet to win even a single game this season and are 0-6 and last in the AFC East: their defense. The Bills ...
October 22, 2010
Sunday's matchup between the Jaguars and Chiefs pits two teams heading in opposite directions. The Chiefs have played well, even in their road losses to the Colts and Texans, while ...
October 16, 2010
If you've been a football fan for a while, you've likely engaged at least once in the debate of "Who's the greatest quarterback of all-time?" Was it Montana with all ...