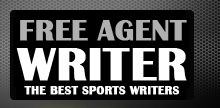 Yankee Addicts
Categories
Featured Sponsors
News published by
October 16, 2010
Last week, Kansas City Chiefs head coach Todd Haley told his players before the game that if they lost the opening coin toss and the Indianapolis Colts chose to receive, ...
October 10, 2010
Despite a solid performance by the Kansas City Chiefs defense on Sunday, it was a questionable coaching decision early and an inept offense late that cost the Chiefs in their ...
October 9, 2010
The aura surrounding the Indianapolis Colts is much more intimidating than the players on the roster. The Kansas City Chiefs, on the other hand, have a roster full of young talented ...
October 4, 2010
Both the Pittsburgh Steelers and the Chicago Bears lost their first games on Sunday, making the Kansas City Chiefs the lone remaining unbeaten team in the NFL. While the so-called NFL ...
October 2, 2010
The Chiefs have had two defensive linemen in recent memory that have worn No. 90 and had the name "Smith" on the back of their jersey. Neil Smith was selected second ...
September 26, 2010
So much for the guarantee from San Francisco tight end Vernon Davis that the 49ers would beat the Chiefs in Kansas City on Sunday. The Chiefs ran all over the ...
September 24, 2010
Heading into this Sunday's game between the Kansas City Chiefs (2-0) and the San Francisco 49ers (0-2), the Las Vegas oddsmakers don't appear to be paying attention to the current ...
September 17, 2010
The 2009 season was a humbling experience for several Kansas City Chiefs players, and after the struggles they endured last season they have emerged this season more driven than ever ...
September 10, 2010
The San Diego Chargers will have two primary goals when they take on the Chiefs on Monday Night Football: Get an early lead and stop the Chiefs' running game. While ...
September 1, 2010
For some Kansas City Chiefs players, this week's final preseason tilt against the Green Bay Packers represents one last opportunity for them to make an impression on the coaches that ...