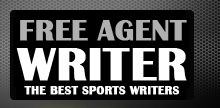 Yankee Addicts
Categories
Featured Sponsors
News published by
December 17, 2010
The NFL is coming to crunch time and a lot of teams are looking to get into the playoffs.  There are some big games on the slot this weekend, and ...
December 16, 2010
The NFL season is starting to get down to crunch time.  It is do or die for a lot of teams in the NFL including some that are not used ...
December 16, 2010
We are starting to enter play-off time and it's time to start getting serious about your fantasy football team if you are wanting to win all of the money, or ...
December 9, 2010
As we near the end of the NFL season, it is time to start looking at possible Super Bowl match-ups.  This season will feature some new faces in the play-offs ...
December 3, 2010
Looking at this match-up at the beginning of the season, many thought it would be a battle between one of the best teams in the AFC against one of the ...
November 24, 2010
As we inch towards the end of the season and the playoffs, an aspect of the game is usually forgotten—the ability for a team to get the No. 1 overall ...
November 23, 2010
So NFL is in full swing, and as we enter into the all coveted jockeying for play-off berths every win counts in clinching divisions.  This is one of the most ...
October 18, 2010
We are now onto week seven of the NFL season, oh how time flies. As we approach this week, some quarterbacks have clearly separated themselves from the pack.  While a few have separated themselves ...
October 13, 2010
As we enter Week 6, the NFL season is in full swing in what has been a season full of surprises already.Who would have guessed that the last undefeated team would have ...
October 6, 2010
Reports are saying that future Hall of Famer Randy Moss is being traded back to Minnesota from the New England Patriots for a  third-round draft pick.Moss, who has been disgruntled ...