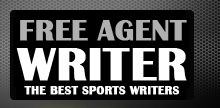 Yankee Addicts
Categories
Featured Sponsors
News published by
April 12, 2011
There have been a lot of mock drafts as of late, but they are missing one key player: Ryan Kerrigan. Purdue football's last four years were not the greatest. In fact, ...
January 18, 2011
The NFL Draft is almost here and as always there is a lot of debate on who the Philladelphia Eagles should use their picks on and what they need to ...
January 16, 2011
Every season we have a few teams that deserve to make the playoffs, but are not given the opportunity due to a tough division and a hard Wild Card race.Even ...
January 7, 2011
As we start to wind this season down and get the playoffs underway, it's time to start thinking about what off-season moves each team will take to help them reach ...
January 7, 2011
Andrew Luck and Stanford recently announced that he would be staying in school to get his degree. This caused a huge shake-up across the nation, and made a lot of noise, ...
December 31, 2010
Brett Favre is always in the news these days.  Will he retire, will he play, has he sexted and does he even know what sexting is? After this weekend the Vikings ...
December 24, 2010
The Indianapolis Colts go into Oakland this week in a do-or-die situation.  They must win this game to have a shot at winning the AFC South and making it into ...
December 22, 2010
The Green Bay Packers are coming off a tough 31-27 loss against the New England Patriots last Sunday without their star quarterback Aaron Rodgers.  The good news for the Packers ...
December 17, 2010
Most everyone knows by now that Tony Romo recently was engaged to sports reporter Candice Crawford, but the real question is, will he ever get a ring for Dallas Cowboy's ...
December 17, 2010
It's almost time to say goodbye to football season as the regular season is coming to a close, and it's almost time to vote for the most valuable player of ...