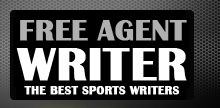 Yankee Addicts
Categories
Featured Sponsors
News published by
April 13, 2013
Coming out of high school at Miami's Killian High School in 2006, Alonso Rojas was rated the #1 punter by Scout.com.After playing just one season at Bowling Green, things didn't ...
December 11, 2012
With a record of 5-8, the Miami Dolphins have just assured a fourth straight non-winning season. As the NFL—and the world, really—is all about instant gratification, where should the blame ...
July 29, 2012
According insider information obtained by Adam Schefter of ESPN, the Miami Dolphins and rookie quarterback Ryan Tannehill have agreed to terms on a new contract. As of right now, the ...
July 7, 2012
Heading into the 2012 season, Miami has to feel pretty good about the running back situation. Reggie Bush, fresh off of his first 1,000-yard season, is joined by second-year player ...
March 10, 2012
The NFL offseason is a pivotal time for any team to improve and get healthy. Just focusing on the Miami Dolphins efforts, there are many areas that need to be ...
November 26, 2011
As the Miami Dolphins will likely move from one era to the next after this season, there are certain players who will be deemed untouchable, while others will be seen ...
April 20, 2011
As consumers, we are all very aware and cognizant of great deals. If there is a way to save a buck or two, most people will find a way to ...
April 5, 2011
One of the hardest things to accurately measure is the skill of one player over another. Based on wins, stats, championship success, and other categories, many players can be heralded ...
February 27, 2011
During the first part of the 2011 NFL offseason, the NFL owners and Players Association have been in a heated negotiating process that has left a bitter taste in everyone ...
January 7, 2011
Many sources have confirmed that the Miami Dolphins will retain head coach Tony Sparano for the 2011 NFL season. For the past couple of days, the media has been stuck ...