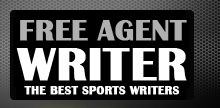 Yankee Addicts
Categories
Featured Sponsors
News published by
October 1, 2010
Michael Vick was simply electrifying early in his career. He had the world in his hands and took it all for granted.Through a tough journey living in the projects, and ...
September 21, 2010
Since Josh McDaniels took over as the head coach of the Denver Broncos, the atmosphere has been as up and down as the very mountains that surround them. Without warning, Monday ...
September 14, 2010
If you didn't watch the Monday Night showdown between the San Diego Chargers and Kansas City Chiefs, you missed out on one of the best Monday Night games this season.The ...
September 11, 2010
While it was originally the plan for Miami Dolphins' Bill Parcells to step down from his position as Vice President of Football Operations, it came as a surprise to many ...
September 4, 2010
The Miami Dolphins had arguably the best offseason, filling holes with proven free agents and smart draft picks. However, there are still a lot of questions that cannot be answered ...
August 28, 2010
As a crucial time is coming up for NFL players and owners, there are many factors that will involve the decisions adopted by the union in the next collective bargaining ...
August 28, 2010
The Miami Dolphins kicked off tonight at Sun Life Stadium against the Atlanta Falcons. The offense in the first half looked anemic, while the defense was off and on, and ...
August 26, 2010
As a long stalemate has been all but settled between the NFL Players Association and the Owners, the NFL is preparing to face a lock out scenario after the current ...
August 24, 2010
Tim Tebow is to the Denver Broncos what Pat White was to the Miami Dolphins last year. Both picks were seemingly seen as reaches, but both of these teams love ...
August 10, 2010
We can all thank Dez Bryant for creating an NFL wide hazing fiasco, not that it effects us as much as it does the other players. After refusing to carry Roy ...