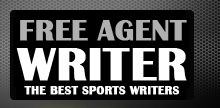 Yankee Addicts
Categories
Featured Sponsors
News published by
January 16, 2017
ATLANTA — In 2013 or 2014, what happened to the Seattle Seahawks on Saturday would have been unimaginable. In 2015, it would have still been hard to conceive. But in 2016, ...
January 14, 2017
The approach may sound strange at this time of the NFL season, but there is a common theme to what defensive players say about facing the Dallas Cowboys offense this ...
December 30, 2016
Bleacher Report surveyed 18 current or former NFL executives to come up with a list of the top head coaching candidates from around the league and in the college ranks. Three ...
December 13, 2016
Is Jeff Fisher overrated? Or are the challenges he has faced in his coaching career misunderstood? Those two questions are critical to consider now that Fisher has officially been fired, per ...
December 2, 2016
Seventeen quarterbacks drafted in the past three years have started at least one NFL game. They are Blake Bortles, Teddy Bridgewater, Jacoby Brissett, Derek Carr, Jimmy Garoppolo, Jared Goff, Cody Kessler, Paxton ...
November 25, 2016
In all the computations and calculations that go into the Moneyball approach to sports, there is one simple multiplication rule that trumps everything when it comes to using the approach ...
November 14, 2016
Bleacher Report surveyed 62 NFL players, coaches and executives about who they believed were the most unstoppable players around the league. Each person named a top three, starting with first-place ...
October 21, 2016
HOUSTON — The Indianapolis Colts are painfully inconsistent, and the question is whether quarterback Andrew Luck has the willingness at this point to fix it. That's the view shared by numerous ...
October 10, 2016
The fear among some people around the NFL is that Carolina quarterback Cam Newton has already been subjected to the kind of punishment that could shorten or alter his career. The ...
October 7, 2016
Bleacher Report surveyed 53 players who have spent at least five years in the NFL to get their opinions on the best and worst teams in the NFL. Each player ...