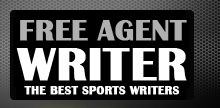 Yankee Addicts
Categories
Featured Sponsors
News published by
September 20, 2016
Darrelle Revis may have violated an unwritten rule among NFL players by boasting about his chances of making the Hall of Fame last week. But is he wrong? During a Twitter dustup ...
September 11, 2016
DENVER — Broncos defensive lineman Derek Wolfe got through Thursday night's season opener versus the Carolina Panthers—a 21-20 win—despite suffering a stinger and a series of hits to the face that ...
September 9, 2016
DENVER — The look on the face of the Carolina staff member told the story of the night. In the aftermath of Denver's 21-20 victory over Carolina on Thursday night, the ...
August 29, 2016
EDEN PRAIRIE, Minn. — Minnesota running back Adrian Peterson has just heard a derivation of the "30-year-old" running back question for roughly the four-millionth time, but politely answers the question ...
August 22, 2016
RENTON, Wash. — Seattle Seahawks head coach Pete Carroll may be 64, but only his hair shows it. Carroll still talks faster than most teenage girls and handles himself like the mayor ...
August 11, 2016
OXNARD, Calif. — A year removed from having both his hips replaced, Dallas Cowboys owner Jerry Jones is as spry as ever. The 73-year-old shows no signs of backing away from the ...
August 1, 2016
STATELINE, Nev. — Arizona Cardinals quarterback Carson Palmer is coming off an ugly performance in the NFC Championship Game in January. It was a rough end to what had been ...
July 12, 2016
The simple, yet complicated, question regarding Von Miller's negotiations with the Denver Broncos comes down to this: Is Miller better off gambling by sitting out a season or taking the ...
July 7, 2016
The Baltimore Ravens are coming off one of the most injury-riddled seasons an NFL team has suffered in recent memory. They lost quarterback Joe Flacco, defensive end Terrell Suggs, wide receiver ...
July 4, 2016
NASHVILLE, Tenn. — Tennessee Titans quarterback Marcus Mariota is going through an interesting transition this season. For the first time in his career, he will be in a pure power-based ...