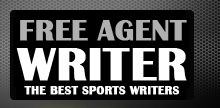 Yankee Addicts
Categories
Featured Sponsors
News published by
June 27, 2016
Washington quarterback Kirk Cousins has come a long way from being considered a long-term backup drafted the same year as Robert Griffin III to being declared the team's franchise player this offseason ...
June 10, 2016
GREEN BAY — Packers wide receiver Randall Cobb's body is now sound after an injury-riddled 2015 season that saw him spit up blood in the middle of a game and spend a night ...
June 3, 2016
PHOENIX — Bruce Arians didn't get a chance to be a head coach in an NFL game until he had already turned 60 years old. Ever since that day in 2012, when ...
May 30, 2016
DENVER — Unlike Sam Bradford, his former teammate in Philadelphia, Mark Sanchez isn't the least bit concerned about the fact his team just took a quarterback in the first round of ...
May 25, 2016
DENVER — John Elway is unique, even among the unique. In the 50 years of the Super Bowl era in the NFL, there have been 31 quarterbacks to help their team ...
May 11, 2016
TAMPA, Fla. — First-year Tampa Bay Buccaneers head coach Dirk Koetter keeps an array of interesting mementos around his office, starting with a collection of 12 helmets from every spot on his playing ...
April 12, 2016
BOCA RATON, Fla. — Washington general manager Scot McCloughan has spent most of the past 15 years establishing himself as one of the NFL's top talent evaluators, helping the Seattle Seahawks and San Francisco 49ers land ...
April 4, 2016
CHANDLER, Ariz. — Ohio State offensive tackle Taylor Decker is working out in what looks like a modified auto body shop.  It's the O-Line Performance Academy run by former Pro Bowl center LeCharles Bentley. Along ...
March 3, 2016
Buffalo Bills quarterback Tyrod Taylor had a stunning season in 2015, throwing for 20 touchdowns and only six interceptions on the way to a Pro Bowl nod. Taylor went from sixth-round ...
February 18, 2016
KAHUKU, Hawaii — Richie Incognito completed his return to the NFL with a spot in the Pro Bowl. His journey in the aftermath of the 2013 Bullygate scandal was far from easy and included ...